Breaking Bad – If you are a fan of the show like I am, here's breaking news. The last season begins in July, and they are splitting it into two parts. 8 segments, then a four month hiatus, then the last 8 and we find out what happens to Walt and Jesse. They'll start out the new season by cleaning up the mess left behind by the Chicken man blast. And according to Bryan Cranston co-star Aaron Paul, its going to get CRAZY. Funny, I thought blowing up chicken man last season was pretty nuts.
Breaking Bunny Bad – One of the things I've really enjoyed today is looking at all the funny pictures of kids with grownups dressed in bunny costumes. There are surprisingly a LOT of them on line and on Facebook.
Some of the kids in these pictures look like they are being tortured, in others, the bunnies look like they are straight out of a horror movie. I had no idea so many people dressed up for Easter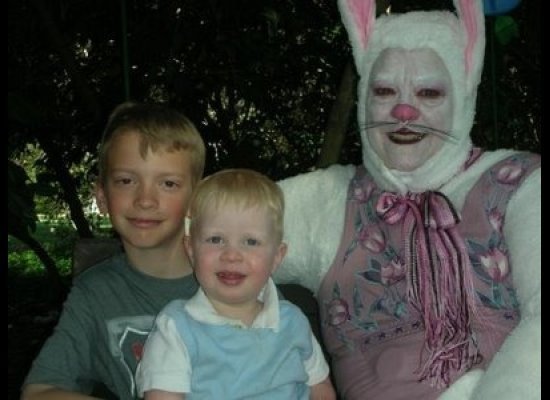 Bunny Cop – I love this story – cops in West Palm Beach dressed up as bunnies, holding signs that remind people to buckle up. They paid very close attention to people who didn't, so they could give tickets to those drivers. Operation "Hippity Hoppity" managed to hand out 50 tickets in just two hours. That is NOT what I want in my Easter basket.