The 2014 Oregon Brewers Festival is here!
((( for fellow Beer Geeks who are just here for the beer list... CLICK HERE!!! )))
Despite the rain on Wednesday, hundreds joined in the parade from Lucky Lab to Tom McCall Waterfront Park for the ceremonial tapping of the first keg. By the looks of it, plenty of folks were happy to brave the rain and drink beer!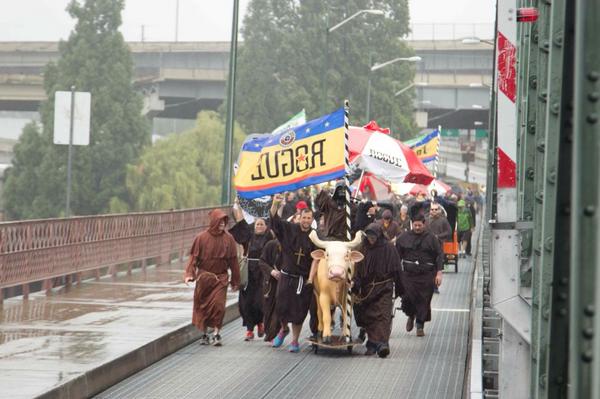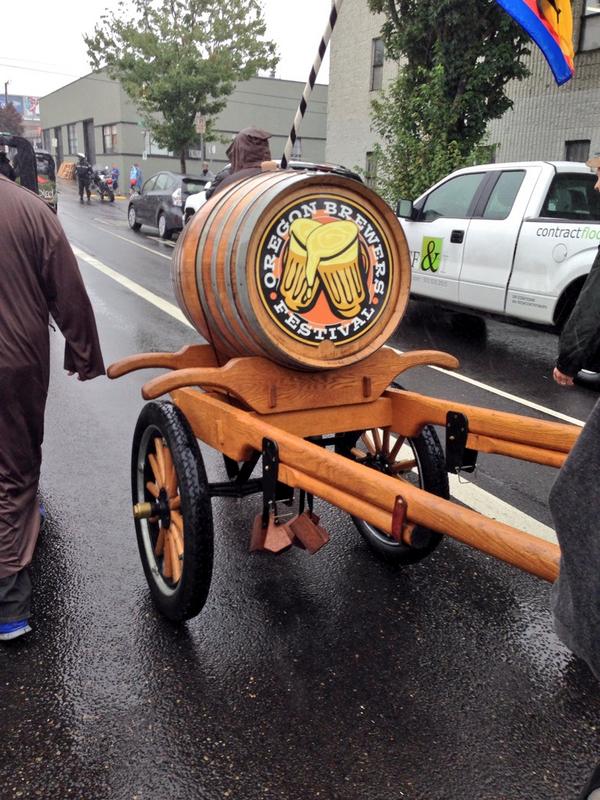 One of the biggest questions each year is: how do I find the beer I want. The friendly folks at OBF have an answer for that:
The festival is divided into two areas: North and South. Each section features five semi-trailers that pour at least 8 beers apiece. The taps are numbered starting at the first tap at the South end of the park, closest to the Morrison Street Bridge. Because the beers are delivered to the park only two days before set up, it is impossible to "position" them in a set order; when they arrive, they are loaded onto a trailer. You are more likely to find beers by distributor rather than by style or alphabetical order. The best way to locate the beer you want is to check the map inside the program guide, available at no cost; or to follow the official mobile app atwww.coaster.me
There's also this handy map (DOWNLOADABLE HERE) that shows you were the beer trailers are (see "Beer List" for which beers are at which trailers)
Be sure to use the Twitter hashtag #OBF27 while tweeting and drinking at the festival!
Finally, if you see this woman...
... give her a hug or at least say "thanks" for being Oregon Brewers Festival ROYALTY. Chris Crabb is one of just 3 paid staff members for the festival. Her craft beer promotion magic is one of the big reasons why Portland has become known worldwide as Beervana and a mecca for craft beer. Cheers, Chris!
Happy OBF!
The First Edition Beer Geek airs every Thursday morning at 7:40 a.m. on First Edition with Tim Hohl & Terry Travis. Follow me on Twitter @timhohl for breaking craft beer news during the week!